Modern vehichles
German Leopard 2A5 KWS and Marder 1A3 in Kosovo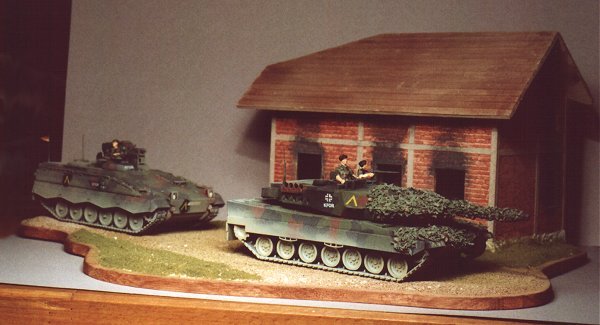 Revells Leopard 2A5 KWS in German KFOR markings. This must be one of Revells earlier small scale armour. They have altered their Leopard 2A4 to get this version but didn't change the drivers hatch. I rebuilt this hatch and made some KFOR decals for it.I made a camo net out of tea leaves sprinkled on whiteglue.

Revells Marder 1A3. This must be the finest small scale armour I have built so far. There were absolutely no problems in assembling the kit. Not even the tracks. All I had to do was to make decals and fix some figures for the kits. Its a shame that there is no figures included.
About KFOR decals: I think that Revell is to release a KFOR gift set soon.
T-72 Finland


Below and to the right is a Galaxy T-72 built as a tank from Finland. Of the four different Galaxykits that I have bought, I find this to be the finest. On this kit I made a box for the left side of the turret, and front and rearlights as well. The decals are from the hopeless old ACE T-72 kit.(Perhaps I can make an ARV of it. If I find any documentation)

T-72 NATO


Poland has joined NATO and need to conform to the standard Nato ammunition. There are three suggestions on how to do this.
1. Buy new 120mm guns for the existing T-72's.
2. Rebuild the T-72's with old Leopard 2 turrets.
3. Buy second hand Leopard 2 tanks.
Personally I think that the third alternative will win, but I really liked the sketch of the T-72 with the Leopard turret. I had to build one before the decision of the future tank force of Poland would be made. I had the old ACE T-72 hull and a Revell Leopard turret, all I needed was some wheels as the T-72 wheels was unusable. (That was the reason why the kit never was finished) I found that the Airfix Centurion had wheels of the right size, so there it is. A tank I don't think will ever exist.

| | |
| --- | --- |
| This is Fujimi's Type 90 Japanese tank. It is one of the few unaltered kits on this site. A very nice kit. | This is a Gulfwar Abrams. A Revell kit built straight from the box. Also a nice kit, I wish that I had a Humvee to acompany it |
| | |
| --- | --- |
| Challenger 1 | This is Revell Germany's lovely Challenger 1 kit. This one is built straight out of box. All I did was to alter the chassie to fit the uneven ground where I placed it. The ground is made of celluclay on which I sprinkled cat litter (is that the english word?) |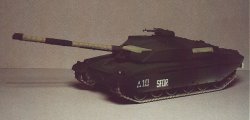 This is the other Challenger 1 kit made by Revell. It is built as a SFOR vehichle.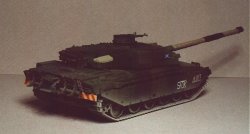 It is another model that was built without alternations, it is rather unusual. All I had to do was to make new decals for the sides as mine had the wrong colors.
| | |
| --- | --- |
| Esci Leopard 1 converted to a early german type as you can see on the exhaust louvres in the rear. | Italian Leopard 1 from Esci. I converted the rear parts of the sideskirts using parts of the skirts that was left from the german Leo |
Above is Revells TPz1 Fuchs APC in UN markings. As all of Revells later kits this is a really nice kit. The chassie is very detailed (I should have taken a picture of it) and can be a little tricky to assemble.

To the left and below is an Airfix Chieftain. After building the Challengers I felt that I needed this kit in my collection. Now that I have it I suddenly feel a need for some Centurions. Will it never stop?



| | |
| --- | --- |
| Le Clerc | This is a Calaxy Le Clerc kit. This one is built straight out of box. All I did was to put on some tracks from Esci's Leopard 1 and make some decals. Now that I have found some more information, I might rebuild it (sometime?) |





---

Stockholm May 27, 2002